Spokes Models: How to Capitalize on Your Investment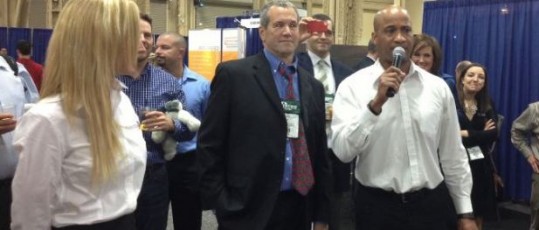 Spokes Models: How to Capitalize on Your Investment
Hiring spokes models is a great way to showcase your product and outline many of its unique and intricate details. However, when it comes to trade shows, businesses struggle to utilize spokes models to their highest potential, causing them to lose out on dozens of leads and sales.
In order to help exhibitors get the most bang for their buck, we've put together a list of the best ways exhibitors can use spokes models to their fullest potential. Whether you need New York spokes models for the JCK Jewelry Show, or a small event down the street, be sure to keep these factors in mind.
Spokes Models: Capitalizing on Your Investment
1. Consider What Technology and Equipment You Should Use
When your business decides to hire a spokes model for your trade show or upcoming event, it needs to decide what technology is required in order for him or her to effectively present your material to an audience.
For example will the spokes model need an ear prompter or teleprompter? Ear prompters are most commonly paired with spokes models because businesses typically want him or her to walk around the trade show floor while reciting a speech, explaining their product or services, or hosting a promotion or game. Ear prompters are great for these types of promotions because the spokes model is not restrained in his or her movements. Instead, he or she can move fluidly throughout the crowd helping to attract more attention to your booth and encouraging attendee participation.
On the other hand, teleprompters are ideal for spokes models that are staying stationary at your booth. The teleprompter helps the spokes model to stay on task and keeps him or her in next to your company product helping to attract more eyes to your booth.
When determining which type of equipment to provide to the spokes model, the most important factor to remember is that it aligns with your marketing goals and does not limit him or her.
2. Use Spokes Models for Marketing
Spokes models are great for attracting attention at a trade show, but what about after the show? Can you still reap the marketing benefits of hiring a spokes model long after the trade show has ended? The answer is, yes. You can do this by recording an engaging and interesting video of the spokes model, upload the video to your YouTube page, and share it across all of the social media sites. In this way, the spokes model acts as a marketer that attracts attendees on the trade show floor and an ongoing marketing effort that entices potential clients for years to come.
3. Experience Level
When it comes to spokes modeling, nothing prepares a spokes model for this position more than experience. If you desire a spokes model to perform speeches (especially when desiring someone who can use technology i.e. teleprompters, ear-pieces, etc.) the most important thing to consider is "Have they done this before?"
A five-year standard is a good bar to set. This means that a spokes model should have 5 solid years of promotions, public speaking, and trade show modeling under his or her belt. A spokes model with adequate experience will benefit you and your team by drawing more attention to your booth and generating quality leads.
4. Attire
Finally, the last aspect that businesses should consider when hiring a spokes model is how he or she is dressed. Generally speaking, spokes models are dressed in suits, dress shirts, or in formal attire. A high-standard of professionalism is maintained throughout a spokes model's demeanor and performance; therefore, his or her attire must mirror this experience. Be sure to read our blog for additional information on promotional attire and how it defines your booth.
When it comes to hiring spokes models, trade show equipment, marketing, experience level, and attire are the four best ways to not only make a positive impression on your audience, but capitalize on your investment as well.