Top 10 Trade Show Marketing Mistakes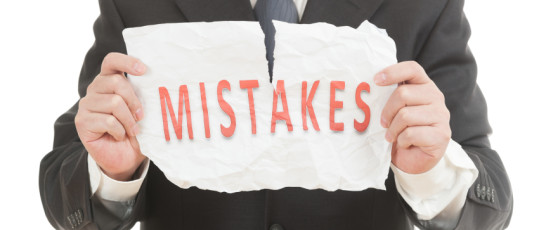 Top 10 Trade Show Marketing Mistakes
When it comes to trade shows, it's all about the bottom line. If your team can't generate the revenue your brand needs to grow, then why exhibit at all? Trade show lead generation is the number one reason exhibitors attend trade shows, so it's important that your trade show marketing plan focuses on your lead generation goals in order to effectively produce results.
Over the years, I've learned that some exhibitors, especially first time exhibitors, have a hard time finding that trade show marketing "sweet spot" and instead, their booths seem to miss the mark. To help others avoid these trade show marketing mistakes, it's important to discuss them and understand how they can harm your trade show performance. Avoid these trade show marketing mistakes at all costs.
Most Common Trade Show Marketing Mistakes
1. Not Asking for Advice from Seasoned Trade Show Experts –
If you want to make sure that your trade show booth is successful and popular on the trade show floor then it's important to sit down with a team of trade show experts and outline your trade show marketing plan. Think you don't have a team of experienced trade show exhibitors to turn to? Sure you do. Social media platforms such as Linkedin and Twitter are full of experienced trade show professionals that you can reach out to regarding trade show marketing advice. All you have to do is ask.
Looking for a place to communicate with trade show professionals? Join Expochat, read Event Manager Blog, or follow these social media hashtags: #eventprofs and #tradeshowtips.
2. Not Incorporating Social Media –
This may seem like a no brainer, but you'd be surprised how many exhibitors still aren't incorporating social media into their trade show marketing plan. Nowadays, every trade show or event has an event specific hashtag that you can pretty much guarantee everyone is using. This includes your competitors, who are probably using it to communicate with your potential customers. Incorporate social media into your trade show marketing plan by using it to answer questions, promote your booth, and discuss your brand's experience before, during, and after the show.
For more tips on incorporating social media into your trade show marketing efforts, read this article: Using Social Media at Trade Shows.
3. Focusing on Quantity Over Quality –
Focusing on the quantity of trade show leads over the quality of trade show leads is a rut that almost all trade show exhibitors get stuck in at some point in their career. But, it's a bad habit to get in to. Why? Because when you focus on the number of leads instead of the quality of each lead, the chances of each lead being unqualified greatly increases. Instead, create a trade show marketing plan that focuses on attracting quality leads to your trade show booth.
For tips on how to create a booth that entices highly qualified trade show leads, read this article: How to Drive High Quality Trade Show Leads to Your Booth.
4. Getting Stuck in Trade Show Marketing Ruts –
Many companies that exhibit at trade shows on a regular basis stick to the same old marketing plan year after year because it works, and well, "Why fix it, if it ain't broken?" Wrong. Getting stuck in a trade show marketing rut is something that can seriously harm a company's bottom line. Challenge your team to revisit your trade show marketing plan each year to correct issues and incorporate current marketing trends.
5. Not Personalizing Attendee Conversation –
Not taking the time to personalize your conversations and get to know attendees is a sure-fire way to lose a sale. Take the time to get to know each attendee, make them feel special, and find something in common with them. Then afterward, write down everything you can remember about interacting with them. Store this information with their contact information and bring it up when you reach out to them after the show. For example, ask them how their son's baseball playoffs went, or whether or not they were able to get the approval for that big project they were working on. This will help them to remember who you are and prove to them that they're more than just a number to your company.
6. Misleading Attendees About Your Brand –
Sometimes your brand isn't the coolest or most attractive product at the show, or your service isn't that appealing to attendees. No matter what the case, never, ever falsely advertise any aspect of your brand to your customers. You'll only attract the wrong audience and cause distrust among your loyal customers. Instead, focus on the latest improvements to your products or aspects that make your brand unique.
7. Being too Aggressive –
Don't get me wrong- eager and attentive booths are a good thing. I'm not talking about those booths. I'm talking about the booths that will stop at nothing to grab your attention and get your contact information. From chasing after you as you walk past their booth; to trying to pull you in with too many booth activities (talk about sensory overload!). These overly aggressive booths are the ones that attendees actively avoid. Don't become that booth.
8. Not Being Aggressive Enough –
On the other hand, booths that aren't aggressive enough are just as bad! Instead of actively attracting your attention with enticing games, contests, or by hiring booth staff, these booths completely ignore you. From being on their mobile phones to avoiding eye contact, they are some of the worst trade show marketing contenders. If your booth isn't being proactive and engaging with attendees, then don't exhibit!
9. Not Having an Elevator Pitch –
Another trade show marketing mistake is not providing your trade show team with a quick and easy 30 second elevator pitch. Trade shows can be hectic and overwhelming at best, so it's important to provide your team with the necessary tools to actively engage with attendees in a memorable, but quick exchange. 
10. Staffing Your Booth with the Wrong People –
Filling your booth with entry-level employees may seem  like the a great idea because their absence won't affect the day-to-day activities in the office; however, their lack of experience could seriously harm your booth results. Instead, send fully qualified, knowledgeable, and experienced team leaders to manage you booth. Then, hire trade show models to fill your booth with trade show experience and knowledge along with outgoing personalities that will attract and engage attendees.