Trade Show Exhibitor Tips – How to Make Your Trade Show Booth Stand Out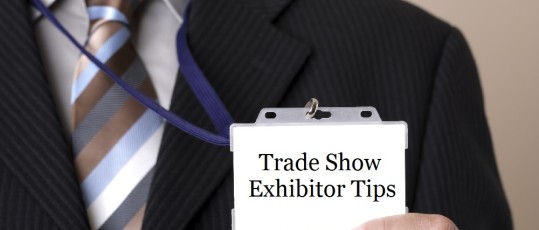 Trade Show Exhibitor Tips – How to Make Your Trade Show Booth Stand Out
As you plan and prepare for your upcoming trade show, it's important to remember that in order to build long-term relationships, increase your network, and produce high-quality trade show leads your trade show booth must first attract trade show attendees. If your trade show booth is not eye-catching and/or memorable in some way, then it is unlikely that your trade show booth will be able to produce high-quality trade show results for your brand. In fact, a poorly executed trade show booth design is a surefire way to send your trade show leads straight into the ground.
So, how can you ensure that your trade show booth design has the right amount of character to attract attention to your brand and produce the results your team needs? To help, we came up with 9 ways to make your trade show booth stand out at your next trade show.
Trade Show Exhibitor Tips – Making Your Trade Show Booth Stand Out
Trade Show Layout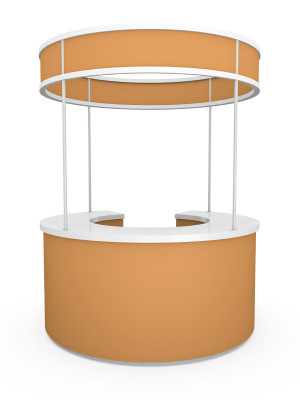 First and foremost, the success of your trade show booth lay in its overall layout and structure. The layout of your trade show booth should be constructed in such a way that your brand's products and services are the focal point of your booth. Every trade show attendee that walks by should be instantly drawn to your booth and immediately know who your brand is and what your brand does. Don't make them guess!
Another important aspect about your trade show booth layout is making sure that it is open and inviting to all trade show attendees. If you have the room, consider placing any trade show table to the side or back of your booth. The more open your trade show booth is the more likely trade show attendees will feel invited to engage with your team, brand, and booth.
Trade Show Booth Lighting
Lighting is pivotal to any trade show booth because it gives the booth a clean, bright look and helps to clearly display your brand and what your brand is offering to trade show attendees. The lighting at your trade show booth should be bright and uniform throughout your entire display. You do not want some areas of the display to be dark and have shadows while other areas are fully lit. If the overhead lighting is poorly lit at your booth, consider setting up spotlights, table lamps, track lighting, or other display lightings.
Another aspect of trade show lighting that your team may want to consider is the use of light filters and special LED lighting fixtures. Using LED lights that change colors can be an easy way to attract attendees to your booth.
Signage and Displays
Using free-standing displays and signs is a great way to decorate your booth and boost your attendee attention at a trade show. However, when creating the marketing material for your signs, make sure that the text on your signs is clear, concise, and graphically appealing. Attendees will not waste their time reading an entire paragraph about your brand or product.
Product Display
Another way to make your trade show booth stand out is by displaying your products on elevated trade show tables or trade show pedestals. By placing your products on a raised platform, attendees will have an easier time seeing them and your trade show staff will have a better time explaining each product's features and showcasing them to trade show attendees.
Eye-Catching Product Visuals
Although there is a lot going on at a trade show, having exciting and entertaining visuals can really help your trade show booth stand out among its competition. One of the easiest ways to incorporate visuals into your trade show booth is by having a television, laptop, and/or digital signage that talk about your product and brand and play on loop. Bonus points if your visuals are interactive!
Another way trade show exhibitor tip for incorporating eye-catching product visuals into your trade show booth is through hosting a product demonstration. Product demonstrations are a great way to introduce your product and brand to attendees in a controlled environment. Hire trade show product demonstrators to showcase your product to attendees and encourage them to try your product out for themselves. By allowing attendees to try your product onsite, they have the ability to see your product in action and ask questions about your product as they arise.
Attention Grabbing & Engaging Sounds
As noted above, trade shows can be a loud and distracting place; however, that does not mean that your team should not consider incorporating sounds into your trade show booth display. In fact, sounds that are produced from a product demonstration, trade show contests, trade show games, and/or soothing background music are different types of sounds that can actually attract attention to your trade show booth.
When incorporating sounds into your trade show booth, it's important to consider whether or not it coincides with the theme of your trade show booth and whether or not it will be appealing to your target audience. Having trade show booth sounds at your booth just for the sake of having sounds will do your team no favors and will only frustrate attendees and exhibitor booths nearby.
Trade Show Booth Color
Having uniform and consistent colors is important when decorating a trade show booth. You want the colors of your trade show booth to compliment the colors of your brand's logo and brand. When selecting the color scheme for your trade show booth consider incorporating bright and vibrant colors. Not only are bright colors more attractive but, bright colors will help to draw the eyes of trade show attendees to your trade show booth. That being said, be sure to avoid using grayscales in the color of your trade show booth as these colors are not as attractive to the eye and can instead make your booth look dull and boring.
Trade Show Theme
When it comes to decorating a trade show booth, you want to create a common theme that remains consistent throughout every aspect of your booth. No matter what concept or theme you choose for your booth, make sure it is noticeable throughout the entire booth. By creating a trade show booth theme you make it easy for attendees to notice your booth and separate it from other exhibitors. Plus, having a trade show booth theme shows attendees that your company is prepared and organized and provides them with a better first impression of your brand.
Trade Show Table Top
Finally, if your team does not have the budget to purchase a customized trade show table and decide to use the table provided by the venue instead then decorating your trade show table is very important. Start by renting or purchasing a table cloth or table runner and placing it over the table. Ideally, you want this trade show table cloth to include your brand's name and logo; however, if this is not a possibility then using a table cloth with your brand's color works fine as well. Next, keep your trade show table clean and neat. There is no need to have hundreds of flyers, business cards, or giveaways scattered everywhere on the table. Keep everything in nice stacks or folders so it is very easy to pass out and keep organized.
Finally, encourage your trade show staff to stand in front of the trade show table throughout the trade show. Why? Because by standing in front of the table, your team is breaking down the barrier that has been formed by the trade show table and approaching attendees in a neutral zone that is warming and inviting to them, ultimately leading to stronger relationships being built and more trade show leads and sales.