Trade Show Product Demonstrators: When Should You Use Them?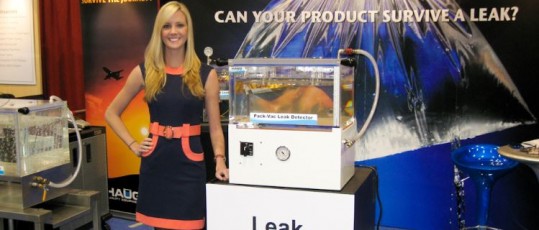 Trade Show Product Demonstrators: When Should You Use Them?
Hiring a trade show product demonstrator is a great way to make your product stand out above your competition. Think of it this way. When you are walking through a trade show, are you more likely to interact with a booth hostess that is handing out pamphlets or a product demonstrator that's doing a live demo and answering questions?
By hiring a trade show product demonstrator, attendees will not only be attracted to your booth, but they will be able to learn about your product in a question and answer environment. Helping to keep your product in their mind and increasing your sales. But, when should you hire trade show product demonstrators?
Hire Trade Show Product Demonstrators When…
You Want to Increase Social Media Integration
Recording a short clip of your product demonstrators illustrating your product, and posting it on YouTube can offer several advantages. The more exciting the video, the better! And, even if things go unplanned, the video may go viral.
The following are advantages you can gain by posting your demonstration on social media. Need more ideas? Read our blog post on Using Social Media at Trade Shows for more tips and ideas!
It allows people outside of your trade show the opportunity to see your product in action.
By posting the video on Twitter with the trade show's trending hashtag or posting it to your Facebook wall, it can drive attendees to check out the demo first hand.
You Team is Camera Shy
Hiring product demonstrators is ideal when you want to record a video of your product at a particular trade show, but your team members are too shy to be the star of the video. Trade show demonstrators are familiar with being in the lime a light, so they can calmly and professionally illustrate your product for the world to see.
You Want to be Interactive
In education, they say that hands-on learning is the best way to acquire knowledge. When you hire trade show product demonstrators, you can be confident that your demonstration will run smoothly, freeing up your team members to dazzle attendees with their presentation and words. A professional step by step description is easier to relay when a someone else is doing the demonstration.
You Have a Complex Product that Need an Explanation
Using a trade show demonstration is a great way to showcase a product that is too complex to be explained in pamphlets or flyers. The demo offers your company the opportunity to visually connect with attendees, answer questions, and encourage them to form their own opinions on your product.
Hiring trade show product demonstrators is all about showcasing your product and attendee involvement. So, when you're deciding whether or not you should hire demonstrators for your next trade show, the question to ask is: "Do I want to engage, involve, inform, and excite attendees?" If the answer is yes, then contact us to begin your booking process!