10 Reasons to Hire a Trade Show Model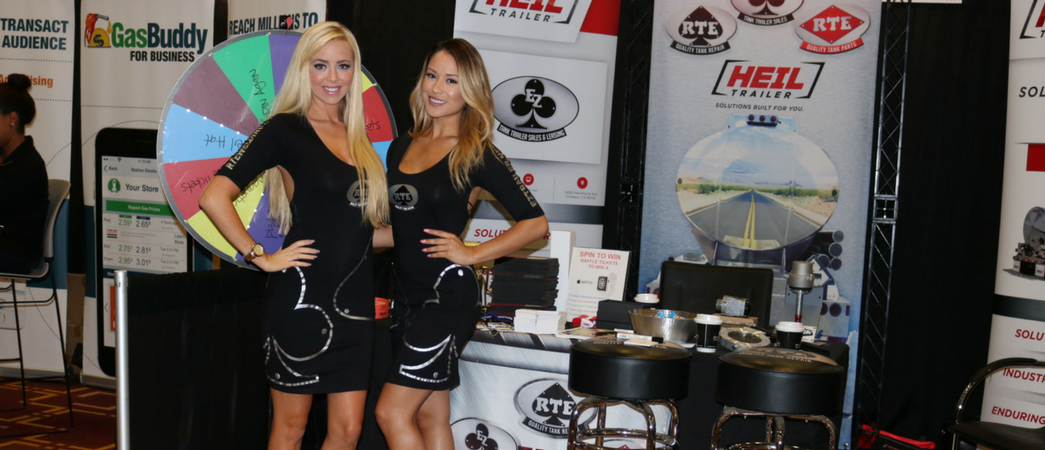 Looking to hire a trade show model?
As the event planner for your company, there are many variables that go into building a successful trade show strategy.  Trade show models can play a vital role in the success of your event. We've compiled a list of reasons you might consider booking a booth hostess for your next event.
1) Save on travel costs (lodging, meals, etc.) you'd pay to bring in employees.
Trade show budgets can sky-rocket when flying in employees to work trade shows. You'll have to cover airfare, transfers, hotel lodging and meals for your employees. This can easily add thousands of dollars to your bottom line. Not to mention you'd be taking your valuable employees out of the office for the duration of the trade show. It makes financial sense to hire local talent who are experienced brand ambassadors. We staff local experienced models in many cities across the U.S. including New York, Chicago, Orlando, Las Vegas, Los Angeles and many more.
2) Break down language barriers at international shows with bilingual models.
Many shows in the U.S. have a global reach and international trade shows draw in visitors from around the globe. If you know a trade show will have attendees who are in your target market but perhaps speak another language, you can break down the communication barrier by booking a bilingual trade show model. These models will not only draw attention to your booth but can translate important conversations so you don't lose those leads.
3) Professional booth models free you up to close the sales.
At trade shows, you can spend a lot of time greeting guests, answering basic questions and scanning badges. What you should be doing is meeting with qualified leads, building relationships, and closing sales. When you hire an experienced booth hostess, it frees you up to do the important work and leave the lead capturing and qualifying to them.
4) Skilled models can draw new visitors into your booth.
Having attractive trade show models in your booth is a great way to draw attention. Our models are experienced at drawing people in, engaging with passers-by, and holding the attention of visitors while they wait to speak with a salesperson. We can staff male or female booth models based on your personal needs. Every client has a different target market, and we can provide talent that is best suited to the types of visitors you'd like to attract.
5) Trained trade show models can pre-qualify your leads.
Increase your ROI at trade shows by hiring trade show models to help pre-qualify your leads. Our booth models immerse themselves in your brand and can prospect leads to help qualify and rank them for you. This frees you up to schedule appointments, and meet with the highest quality leads at the show, and follow-up with other leads after the show.
6) Create a fun and memorable branded experience for your booth visitors.
Whether you've got a prize wheel in your booth, or just need someone to hand out marketing materials and promotional items, our experienced models know how to create a fun atmosphere that everyone will want to be a part of.  This could also include hiring a mascot or costume model as well.
7) Experienced trade show models can handle sales demonstrations.
Along with the cost savings of not having to pay travel expenses to bring your employees to an event, our trade show models can step in and represent your brand. Your booth visitors will not know they are hired event staff. Hire brand ambassadors who are skilled at giving presentations and demonstrating products on your behalf. You can continue the conversations with your qualified leads, while our trade show models are hard at work reaching new leads.
8) Capture more leads at your show.
Seasoned trade show models can be your eyes and ears. When things get crazy in the booth, they are the ones who can scan badges and capture more leads for you! It gives you peace of mind knowing you've got a dedicated team member who is responsible for that task!  Often interested parties will slow down in front of the booth, but if things look busy, they keep walking.  Having someone standing on the perimeter is a great way to engage those event attendees.
9) Promotional models will draw attention to your booth.
Let's face it, pretty girls won't hurt. Trade show models are trained at drawing the right kind of attention to your booth.  Depending on your target market, we can provide you just the right male or female event models who have the keen ability to draw people in.
10) Booth models can circulate on the trade show floor to cover more ground and distribute marketing materials.
Cover more ground at the event by capturing leads outside your booth! Send your trade show models out to interact with people on the trade show floor, who may have not otherwise made it to your booth.  They can pass out marketing materials or extend an invitation to stop by your booth! Make the most of your time at the event and increase your reach by leveraging event models beyond the booth.  No all trade shows allow exhibitors to circulate, so be sure to check with the event organizer before deploying this technique.
So now you know why you should hire a trade show model. Your next question is how much does it cost to hire a trade show model. We want you to make an educated decision about hiring models for your next trade show or event.  Still have questions? Get in touch with us!  We'd love to help!